It is a portable household water quality detector. It adopts special optical lens, integrates multi-spectral detection technology and microcomputer processing design, which can easily and quickly measure the TOC, COD and TDS indicators of water quality. And without any consumables, it is suitable for drinking water testing, household water quality testing, water purifier filter element energy efficiency evaluation, commercial water purification effect testing, etc. It is a peace-of-mind companion for personal home, travel, and water quality with you。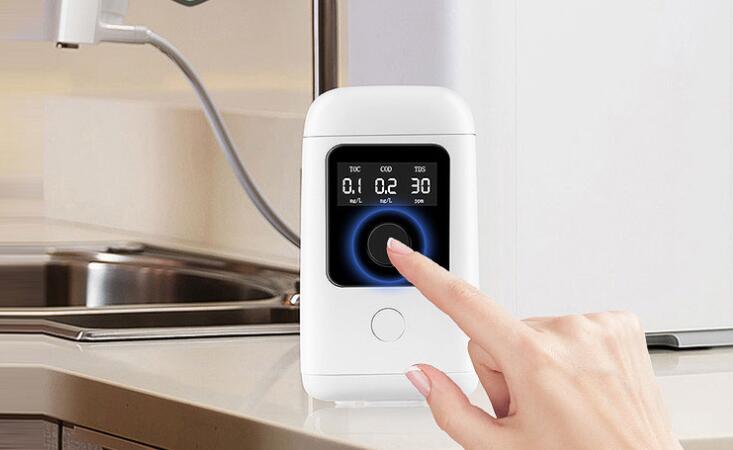 Explanation of main measurement indicators of
water quality detector
, water quality analyzer, water quality tester-[KNF-2020]:
1. Total organic carbon: TOC for short. The higher the TOC value of water, the higher the content of organic matter in the water. Therefore, TOC can be used as an indicator for evaluating water quality and organic pollution),
2. Chemical oxygen demand: COD for short, often used as an index to measure the amount of organic matter in the water. The greater the chemical oxygen demand, the more serious the pollution of the water body by organic matter.
3. Total dissolved solids: TDS, also known as total dissolved solids, the higher the TDS value, the more dissolved substances contained in the water.
Water quality detector, water quality analyzer, water quality tester-[KNF-2020] operation analysis:
1. Open the top cover of the water quality detector and pour the water to be tested into the measuring chamber, which is a cylindrical black groove.
2. Close the lid, press the power switch to turn on, and then press the drop-shaped measurement key. The measurement result will be displayed on the high-definition display of the instrument in about 2 seconds. In order to ensure the reliability of the measurement, the measurement can be repeated 2 -3 times to achieve good water quality data.
3. After the measurement, please use pure water to pour it into the measurement chamber, and then pour it out to complete the cleaning work to facilitate the accuracy of the next measurement.
4. Cover the lid and place it in a place out of reach of children.