ozone-300 high concentration ozone detector, ultraviolet
ozone analyzer
is a high-concentration ozone detector designed with reference to Lambert-Beer's law, which can detect ozone concentration up to 300mg/L.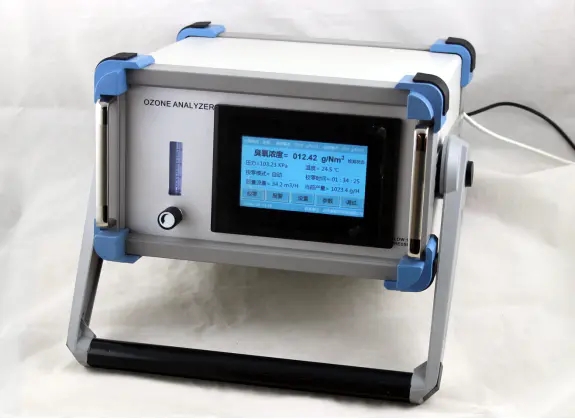 OZONE-300 series ultraviolet ozone analyzerBy measuring the changes in the intensity of the optical signal before and after the absorption of ultraviolet light by ozone, the current ozone concentration value can be calculated. The equipment uses an advanced dual-light path ultraviolet light source system, equipped with a lamp intelligent management system, and the ultraviolet lamp can quickly reach the measurement state after being turned on. It adopts foreign separate light cell technology, and the equipment has no leakage, high pressure resistance, and high resistance. Flow sampling gas shock, easy to clean, easy to maintain, simple to operate, low cost of use and other characteristics. It is mainly used to continuously detect ozone gas in various industrial environments, and can also be used to detect ozone gas in operating pipelines, containers and other environments. It is widely used in pharmaceutical, chemical, municipal, sewage treatment and other industries to measure the export concentration of ozone generators and the output of ozone generators.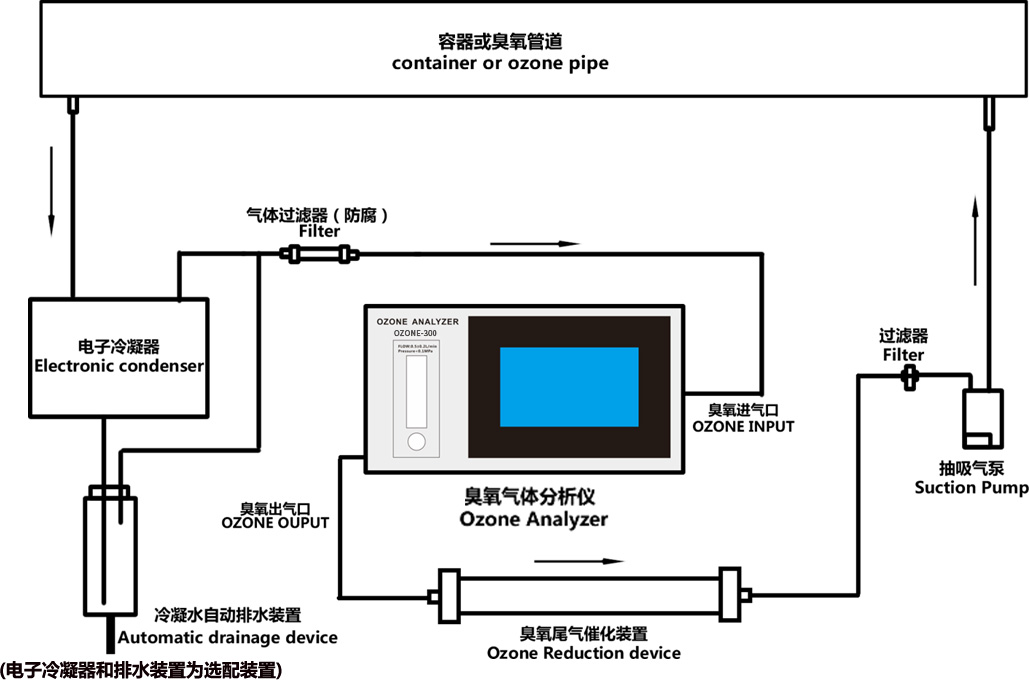 ozone-300 high concentration ozone detector, ultraviolet ozone analyzer With touch screen operation interface, real-time display of ozone gas concentration, with pressure and temperature compensation and display, automatic zero calibration time and manual zero calibration mode can be set. The high concentration (g/Nm3) range has a flow input function, which can display the output of the ozone generator in real time. With two sets of relay signal output, users can freely choose the signal output connection of high alarm point and low alarm point. The core component adopts the ultraviolet long-life light source system and the high transmittance quartz plate to ensure the stability of the zero point and prevent the zero point drift from affecting the accuracy of the detection concentration. The pressure-resistant and impact-resistant independent optical cell structure designed according to foreign optical cell technology, the gas flow, pressure, and flow rate remain unchanged during the zero calibration operation to prevent the impact of airflow from affecting the zero calibration, and the zero calibration can be completed without closing the ozone gas inlet Operation to ensure that the equipment can run continuously 24 hours a day.
Application areas: ozone generator manufacturers, municipal water industry, industrial sewage industry, fine chemical industry, food and drinking water industry, space industry, swimming pool industry, fragrance synthesis industry and other industries that use ozone generators.
ozone-300 high concentration ozone detector, ultraviolet ozone analyzer Technical index:
Measuring range: 0-100g/Nm3(ozone-300l ), 0-300g/Nm3(ozone-300)
Measuring principle: dual optical path ultraviolet absorption method
Light source life: about 70,000 hours
Display: touch color LCD screen
Alarm setting: high and low alarm points can be set
Display unit: g/Nm3 mg/NL %WT mg/Nm3 can be customized
Sampling method: positive pressure sampling, with pressure and temperature compensation
Display resolution: 0.01g/Nm3
Input pressure: <0.1MPa
Measurement accuracy: ±0.3%FS
Response time: about 0.3 seconds
Communication: RS485
Analog output: 4-20mA
Relay output: Yes
Power supply: AC110-240V
Size: 160 high X260 wide X300 deep mm
Ozone treatment device: with ozone destroyer