IT-10 Solid Anion Detector-Inspection of Tourmaline and its products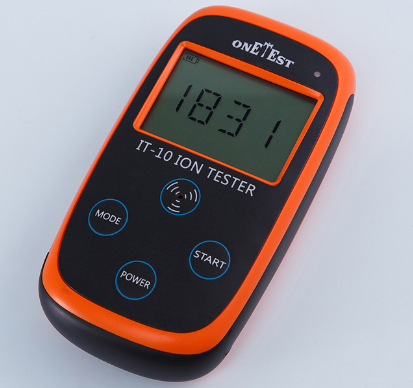 1. IT10
Solid anion detector
Using instructions:
(1) Please never touch induction part, or else, the failure caused by touch on detection induction part is not included in
our guarantee scope.
(2) The anion generated from the nature is quite unstable and may cause different measurement results due to temperature,
humidity, ultraviolet, electromagnetic wave, radioactive rays and other factors of the testing fields.
(3) Please never place the tester in hot place or in the vehicle. The abnormal high temperature may result in internal circuit
damage to cause incorrect testing.
(4) Please never test in water. The tester is not set with any waterproof device. If it falls in water, please immediately pick it up,
remove battery and keep it dried in air. After complete dryness is confirmed, mount the battery in the tester for use. If there is
any abnormal phenomenon, please deliver the tester to the manufacturer for repair in charge.
(5) The tester used or placed in strong electric field or in strong magnetic field may result in failure so that this situation must
be avoided. The tester is not set with explosion-proof structure; thus, please never use it in the field where combustible gas may
leak.
(6) If the test result is within 60, this value may be environmental value. Please make more tests. Then if the test result is still
within 60, this value can be regarded as environmental background value.
2. IT10 Solid anion detector Test principle of the product
IT-10 is based on the most advanced GM ray en erg y detection technology and used to measure weak en erg y of radioactive rays
from natural ores, ceramics, tourmaline, etc. Via long-term data experiment and accumulation, the en erg y of radioactive rays is
converted into anion quantity by up-to-date computer technology. The extremely accurate measurement can be achieved by this
method.
3. IT10 Solid anion detector Purpose of the product:
(1) Research and discuss for ore anions conducted by research and development institutions.
(2) Application and detection of advanced functional materials and solid anion materials.
(3) Research and development test and performance evaluation for anion health product.
(4) Such test for various powder anions as content detection and evaluation for anions including natural ore, anion powder,
tourmaline and meteorite.
(5) Such test and evaluation for various solid anion products as research and development and detection for anion bracelet,
anion cushion, en erg y cup, Khan steam room, bedrock bath and paint coating, etc.
(6) Such test and evaluation for various liquid anion products as research and development and detection for nano-silver, anion
mask and anion facial cleanser, etc.
(7) Other relevant emerging industries.
4. IT10 Solid anion detector Innovation features of the product
(1) IT-10 adopts American most advanced GM tube ion detection technology and measures precisely.
(2) It adopts large screen LCD and measurement result is clear at a glance.
(3) It has storage function and it can store 28 data, which is convenient for the user to view, record and have contrast test.
(4) Unique sensor protection net and sliding protection cover can prevent damages to the sensor due to improper use conducted
by the customer to the greatest degree and reduce the cost and enhance test efficiency significantly.
(5) Various measurement modes can provide rapid and accurate measurement method for the user.
(6) It adopts universal 9V battery for power supply and it has automatic shutdown functions, which are convenient for the user
to use and reduce en erg y consumption.
Detector
High Performance GM Ion Detector
Measurement scope
0-99990 pieces/cm3
Measurement accuracy
<±15%
Measurement mode
Model 1, Rapid measurement mode
The detector measures for 10 seconds and then displays measurement value on LCD.
Model 2, Standard measurement mode
The detector measures for 20 seconds and then displays measurement value on LCD.
Model 3, Accurate measurement mode
The detector measures for 20 seconds for 8 times and then displays the average on LCD screen. It
is mainly used to test low concentration and unstable anion products to obtain more accurate data.
Large screen LCD
It adopts 4 digits LCD to display. If 9999 is exceeded, X10 magnification will display.
Data storage
It can store 28 recent test data. Date stored automatically can be viewed on the display and data
which exceeds 28 shall be overlain circularly.
Automatic shutdown function
Automatic shutdown functions of 15 minutes without operation to reduce en erg y consumption
Power supply
An universal 9V dry battery
Dimension
151X80X36mm
Weight
Approximately 0.35kg
Accessories
Portable sheath, Instructions and 9V battery
Service environment
-20°C-60°C, 5%-95%RH
Certification
CE (EMC1674)
5. IT10 Solid anion detector Technical indexes of the product
Product testing case
Textile testing
Negative ion board test pattern

Anion rubber mat test pattern
Negative oxygen ion detector ceramic tile
IT-10 anion Tester X10 magnification view mode
(IT-10 will change automatically the measring range when the Measuring concentration is more than 10000,meanwhile
the display appears symbol of "X10", which means the displayed value needs to be expanded tenfold,As following figure
shown the anion concentration is 32010ions
IT-10 ion tester store data view mode