EST-101-CL2
chlorine gas detector
is a portable gas concentration measuring instrument. It adopts high-precision circuit design and the core is imported sensor chip. It has been developed and calibrated by Wanyi Technology, signal amplification, calibration and calibration, and rigorous testing before it is delivered to the factory.
The instrument is designed and produced in accordance with relevant national standards。 Chinese and English operation。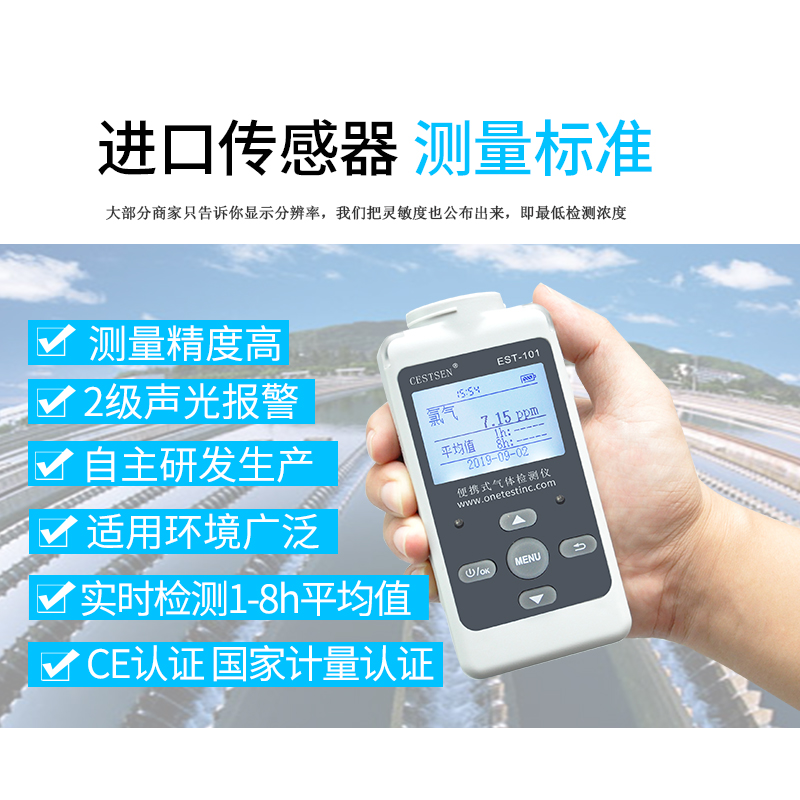 EST-101-CL2 chlorine gas detector Used:
CDC
Water plant Tap water is usually disinfected with chlorine. 1L of water is filled with 0.002g of chlorine. The principle of disinfection is that it reacts with water to generate hypochlorous acid, and its strong oxidizing performance kills germs in the water.
The chemical industry makes hydrochloric acid and makes bleaching powder or bleaching powder concentrate. Organic solvents such as chloroform and carbon tetrachloride
Cl₂ made of plastics (such as polyvinyl chloride plastics) can be used to prepare a variety of disinfectants.
Pesticide manufacturing: Manufacturing a variety of pesticides (such as hexachlorocyclohexane, commonly known as 666.)
Environmental testing agency Chlorine leaks, chlorine testing in clean plants.
| | | |
| --- | --- | --- |
| EST-101-CL2-10 | CL2 | 0-10ppm/0.1ppm |